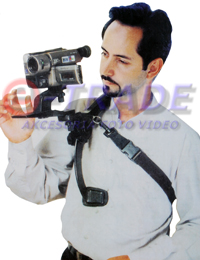 Statyw naramienny typu Shoulder Pod jest doskonałym rozwiązaniem dla każdego, kto lubi robić filmowe pamiątki z podróży, wydarzeń rodzinnych i nie tylko, chcąc zachować miłe chwile w najbardziej profesjonlany sposób.
Dzięki naszemu statywowi
Twoje filmy będą płynnym obrazem bez przeskoków i zakłóceń
wynikających z poruszenia kamerą.
Pozostajesz w pełni mobiny
: możesz chodzić, obracać się, a kamera będzie nadal płynnie rejestrować obraz.
Możesz też swobodnie poruszać rękami
- ramię kontrolujące kamerę nie męczy się, bo statyw opiera się na tułowiu i przytrzymuje sprzęt.
Dodatkowo
nie ma znaczenia, czy jesteś prawo- lub leworęczny
.
Statyw wyposażony jest w regulowany pasek owijany na tułowiu oraz specjalne amortyzujące podkładki - to
zapewnia Tobie pełną stabilność oraz 100% bezpieczeństwa dla Twojego sprzętu
. Używanie naszego statywu naramiennego to wysoka efektywność i ogromny komfort!
W komplecie znajduje się estetyczny pokrowiec
do przechowywania wszystkich elementów statywu chroniący przed kurzem, brudem oraz uszkodzeniami mechanicznymi.
Specyfikacja: